Ivonne Higuero
Secretary-General of CITES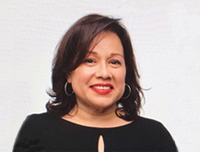 World Wildlife Day was created to be a celebration of all wild animals and plants and a recognition of their diversity, their beauty and the contribution they make to our well-being. 

It's a special day in the year and this year is even more of a milestone as it is also CITES 50th Birthday. In 2013, the United Nations General Assembly chose the 3rd of March for World Wildlife Day in recognition that on the same day in 1973, CITES had come into being. The Convention on International trade in Endangered Species of Wild Fauna and Flora is one of the oldest and most successful environmental agreements and we are very excited to celebrate with you. This is particularly true as the theme for this year's World Wildlife Day is "Partnerships for Wildlife Conservation' and if there is one thing that has made CITES effective it is the partnerships we have built up over the years. Partnerships between the countries that are parties to CITES and who have built the Convention from an idea that international trade shouldn't be allowed to endanger species... to today, where it is seen as the foremost mechanism for building sustainability into international trade. Partnerships too between other bodies where we share expertise, in the service of conservation. 
Partnerships for Conservation are vital, as no organisation, and that includes the UN, can tackle the biodiversity crisis on their own. We have a million species that are threatened with extinction, and it will need all our combined efforts to reverse this. Partnerships bring together people or groups with different levels of experience and expertise, to come up with new ideas and the goal of having impact.  
This year we want to highlight some of the incredible work that is going on at the international, national and local level. It may involve multilateral organisations, countries, companies, communities or small groups. The common thread is that in all these cases they have recognized that they are stronger together than apart. We would like this World Wildlife Day to be a celebration of your stories, of partnerships that you see working or are involved with, and that are making a difference to wildlife conservation. 
In CITES' 50th year, there has never been more of a need for effective wildlife conservation. We are seeing unprecedented drops in wild populations of both animals and plants. The balance of nature is being affected. We rely on wildlife to give us food, shelter, medicines, fuel and fun… but these products aren't inexhaustible. CITES works every day for sustainability – not to take from nature more than nature is able to put back. We hope you will join us, wherever you are and whatever you do, as it will need all our efforts, to reverse this decline in biodiversity and set us on a different path… one where we work together to build a new relationship with nature and a new future for ourselves. 
 
Previous Messages