Achim Steiner
UNDP Administrator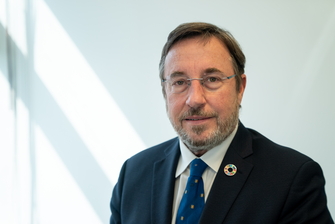 Dear Colleagues and Friends,
On behalf of the United Nations Development Programme, it is my privilege to join our close partner, CITES, to mark World Wildlife Day 2023, and the 50th Anniversary of CITES.
You may be familiar with the African proverb: 
If you want to go fast, go alone, but if you want to go far, go together.
However, what if we must go far and  fast? We are at a pivotal moment for people and planet where we must turn the historic commitments of the new Global Biodiversity Framework into action by the year 2030. Global emissions must be halved this decade to avert the existential threat  posed by the climate change. And we must accelerate on all fronts if we are to achieve the Global Goals.
Crucially, going far and fast requires extraordinary partnerships. Partnerships that embrace different speeds. That means supporting the slowest, or the most vulnerable to evolve their approach, as well as championing and scaling up the first and quickest to act. That is a defining feature of CITES, which has always forged bold partnerships to protect wildlife in every corner of the globe and the communities that look after it.
At UNDP, we know the major inroads that can be made to protect and restore wildlife through cooperation. For example, consider Argentina where wild jaguars are returning to habitats where they had been absent for 70 years in part as a result of the efforts by local communities, the Global Environment Facility, as well as UNDP. I look to Ghana where UNDP is now working with partners, including the government, the Green Climate Fund and the Global Share Alliance to restore 500,000 hectares of savanna forests and share parkland. The new UNDP Nature Pledge is our organization's commitment to support some 140 countries to meet their ambitious targets under the newly Global Biodiversity Framework. 
We can only achieve the transformational change we need through these partnerships: with governments, key partners like CITES; Indigenous peoples and local communities; civil society; women and young people; and the private sector. At this global inflection point for people and planet, partnerships can't settle for the ordinary. 
In this spirit, I would like to thank our friends and colleagues at CITES for their e exceptional efforts and longstanding cooperation as we mark the 50th Anniversary of the Convention. Here's to moving far and  fast together this World Wildlife Day.
Thank you.
Previous Messages