Csaba Kőrösi
UN General Assembly President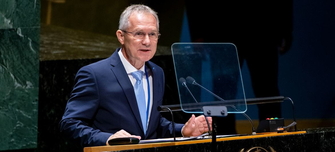 Dear friends, 3rd of March 2023 marks the 50th anniversary of the adoption of the Convention on International Trade in Endangered Species of Wild Fauna and Flora. I'm pleased to be celebrating this important milestone with you all. Recently, we have made a great advance in the field of conservation and protection by adopting the Kunming-Montreal Global Biodiversity Framework. This agreement shows a strong sense of solidarity with future generations of humanity, but also towards our environment, our flora and our fauna. It has reignited hope. 
The parties pledged, that by 2050, the extinction rate and risk of all species are reduced tenfold. I can only commend the resolve of this commitment, but we should not rest on our laurels now. We must do our utmost to implement it as best we can. For that, we need to resort to our most powerful tool building broad networks and fostering far reaching partnerships. Partnership is the key to rebuilding degraded areas and restoring healthy environments. 
It is also crucial in curbing wildlife related crimes to successfully protect biodiversity. Indigenous communities must be included in these partnerships. But if we really want to see change, we must boost conservation and protection funding too. We have to enhance our cooperation with the financial institutions and the private sector. Your views do matter, and we need you to voice your concerns, ideas and proposals. 
I'm happy to welcome you as decision shapers, and I count on your help. Thank you. 
Previous Messages